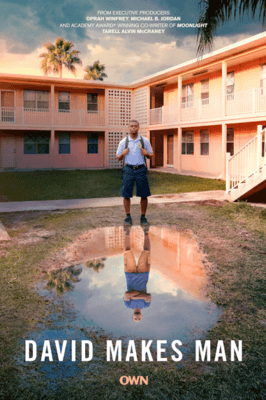 OWN: Oprah Winfrey Network announced today the world premiere of its highly anticipated new drama series, "David Makes Man," from Academy Award winner Tarell Alvin McCraney ("Moonlight") and Warner Horizon Scripted Television at the 2019 SXSW Film Festival as an Official Episodic Selection, with the screening and panel Q&A taking place on Sunday, March 10 at 5:30pm CT.
McCraney serves as executive producer of the series alongside Dee Harris-Lawrence ("Shots Fired," "Unsolved: The Murders of Tupac and the Notorious B.I.G.") who serves as showrunner. Mike Kelley and Melissa Loy ("Revenge,") under their Page Fright production banner, Michael B. Jordan ("Creed") via his Outlier Society Productions and Oprah Winfrey are also executive producers.
"David Makes Man" centers on a 14-year-old prodigy from the projects who is haunted by the death of his closest friend and relied on by his hardworking mother to find a way out of poverty. He must choose between the streets that raised him or the higher education that may offer him a way out. Set in South Florida, the series is inspired by events in McCraney's own life and explores childhood trauma and the power of imagination to survive.
The series stars Akili McDowell ("The Astronaut Wives Club") who plays "David," Alana Arenas ("Hall of Passes") who plays David's mother "Gloria," Isaiah Johnson ("Hamilton") who plays "Sky," Travis Coles ("Liza On Demand") as "Miss Elijah," Phylicia Rashad ("Creed," "The Cosby Show") as "Dr. Woods-Trap," Nathaniel McIntyre ("Celebrity Ghost Stories) as "Seren," Cayden Williams ("Girl's Trip") who plays "Jonathan 'JG' Greg," Ade Chike Torbert ("East Los High," "So You Think You Can Dance") who plays "Raynan," and Jordan Bolger ("Peaky Blinders") who plays "Shinobi."